Have you ever heard of "Poodle Teacup"? This is a special breed of Poodle. In fact, the birth of Poodle Teacup is due to its small size and pathology and is called with a lovely name "Poodle Teacup".
---
With its super funny and lovely appearance, the Poodle Teacup line is very popular and is cared for and taken care of by many people today. However, the advice for you is to keep the mature Poodle Teacup.
Learn about the Poodle Teacup dog
Poodle Teacus are small and have many health problems. Poodle Teacup is only about 10cm height and weighs less than 1.5kg can impress strongly to dog lovers. However, unfortunately, these poodles can have big health problems – the cause is their small size. Poodle Teacups often have difficulty regulating blood sugar and are likely to faint due to hypoglycemia.
According to statistics, the natural birth rate of Poodle Teacup is about 3%, which means that for every 100 Toy Poodle born, there will be 3 Poodle Teacup.
Why should you keep an adult Poodle Teacup?
The Poodle Teacup dogs are very cute, lovely with small and funny looks, so they are adopted by many lovers. If you are planning to keep a Poodle Teacup, it is recommended that you choose to buy an adult Poodle Teacup. You should not risk buying small dogs because the health of this breed is weak, in addition to buying a small dog, you will not be able to ensure the best health care for them. This will only harm small dogs.
Notes when feeding a Poodle Teacup dog
Poodle Teacup dogs are quite weak in health, so you should pay attention to hygiene to protect this small dog.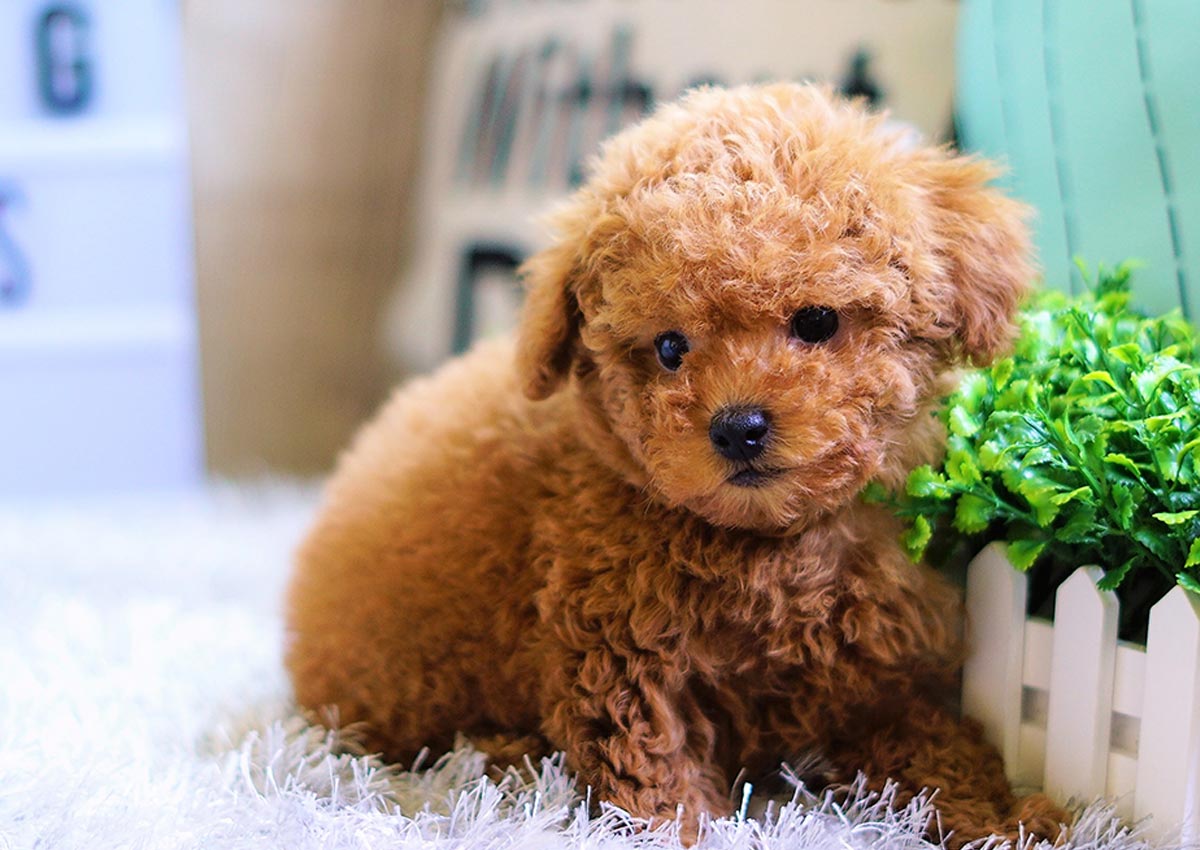 A few notes for you:
– Accommodation must be cool, clean, not too humid.
– Teacup does not exercise too much, thus limiting bathing. If the fur is dirty, wipe it off with a wet towel.
– Foods for Teacup must be soft foods, at any age.
– Do not give them rancid food, unhygienic.
– Clean the tray for food and drink after each meal.
– Trimming teacup 6 months/time. Do not trim too short because the fur is the armor that protects their body.
– Clean the nooks and crannies in the ears, feet, and armpits of Teacup to make sure they are not a bacterial refuge.
For Poodle Teacup between 1 and 2 months of age, there is an incomplete digestive system. Therefore, you should give them easy-to-digest foods such as pureed porridge or dry food but must soak in water to be soft. Besides, after meals should give more milk to supplement nutrition. Do not give them too much at a meal, but divide them into small meals and average 4 to 5 meals a day.
For dogs from 3 to 6 months, offer easy to digest and soft foods. When in the period from 6 months of age onwards only need to eat 2 to 3 meals a day. Should add more substances such as meat, vegetables, duck eggs to make babies' hair smoother and smoother. When keeping a dog Poodle Teacup also avoids hard foods and bones, does not feed on animal organs, and fatty foods.